Within 2 hours of coming home from school on Friday, Kid A got sick.
She had a yucky 24 hour stomach bug/fever.
So, the hubs quarantined her and himself into our bedroom, so that he could take care of her and not risk Baby LL or myself getting sick.
Sure enough, in the early morning hours of Sunday, he caught it.
Good thing is, Kid A is over it and hopefully the hubs can come out of his hidey hole tomorrow for our anniversary.
And let me tell you, after sleeping on the couch for a few nights, I am more than ready to get back into my comfy bed.
During a trip to Target with Baby LL, I picked up some Clorox wipes and have been using them like crazy.
Clorox wipes, you are my life now. :)
It was/is very hard to not be able to be around Kid A or the hubs, but I have spent every waking (and sleeping) moment for the past 3 days with Baby LL.
He is SUCH a happy baby, and has the greatest disposition.
He even took a 2 1/2 hour long nap with me today.
Thanks for that buddy, mama really needed it.
I also realized that he LOVES his stuffed giraffe (it plays Twinkle, Twinkle).
It's half the size that he is, but he's loving quality giraffe snuggling time.
During our Target excursion we also picked up a little somethin' somethin' for the little dude.
He'll be 5 months old later this week and we got the green light from the pedi to start solids whenever we wanted.
And seeing that this little boy can eat something
FIERCE
, we will be starting rice cereal this week.
Just waiting for daddy to get better, so he can watch
(and I can have a photographer)
.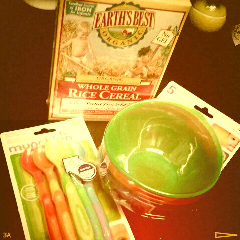 Late last week I took a little shopping trip to Anthropologie to use the gift card that my mama got me for my birthday.
Here are my shopping spoils.
I actually received the vase and sugar bowl as presents.
I still have a bit left on the card, so I will be headed back soon.
And yes, I have already put the mini colander to use holding our tea bags.
I haven't been very hungry today, but I'm craving a
BIG
bowl of Cheerios (with ice cold milk) something fierce!!
And seeing that this weekend didn't go as we planned, I thought the following sentiment was appropriate.